This headline from the Wall Street Journal leapt out at me:
"Fitness centers were one of the bright spots…Until Covid-19".
It wasn't a surprise. In fact it followed months of dismal projections for the fitness industry.
The low point for me?
The "Post Covid Fitness Survey" results released by investment bank Harrison & Co. whose key takeaways included:
$10 billion estimated loss to the brick and mortar fitness sector
34% of members have or plan to cancel their memberships citing safety and cleanliness.
38,000 locations in the US alone shut down
500,000+ employees furloughed thanks to shut downs
But hidden inside of this report was a remarkable nugget of data:
"37% of all participants said they will increase their workouts post-Covid and over 50% said they are motivated by a renewed appreciation of their health and wellbeing".  
Having spent the last 20 years, quite literally pleading with people to recognize the health ramifications of movement and exercise, there it was.
People were finally willing to see their health as the major motivator to move. It's an intrinsic motivator and one that I've perpetually found to be the greatest indicator of long term success.
My key question has been how do we harness that desire when we're struggling to survive?
And, for that answer, I'm looking at an unexpected source:
Peloton.
In December 2019, Peloton was at rock bottom.
Remember this commercial?
While their holiday message certainly generated buzz, it also led to plummeting company numbers and profits.
Citron Research called Peloton an "unrealistic" investment, "disconnected from reality"  citing "clear flaws in the Peloton business model" and argued that the company would likely see stock prices plummeting in 2020.
As New Year's Eve chimed in Virginia, I heard more than a few stories about Peloton's imminent demise.
So what happened in six short months to turn Peloton into a likely failure "disconnected from reality" to having the strongest numbers the company has ever seen?
And, while most would argue Covid-19, I would argue that the strategies prior to Covid-19 and the pivots post-Covid is what's gotten them there.
1. Lead with inexpensive, scalable digital, but focus on high-end tangible products.
When my first friend purchased a Peloton I dropped my jaw…$2000 for a bike. But, that's not how most of our friends have gotten hooked (and gotten hooked with purchases of 2-4.5K). Instead, they got hooked in with a low cost monthly offer of $12.99 per month. It didn't take long for them to become converts (See #4) and for them to pony up a serious price tag for a new bike or treadmill. They were doing this long before Covid. When studios closed, clients had a loyalty to a low cost digital platform with a high ticket upsell.
Side note: While I've yet to see data on individual usage of Peloton's products, anecdotal evidence and low numbers of resales indicate their bikes haven't turned into dirty clothes racks that never see a pair of cycling shoes. Clients are using them, a crucial part for this company's long term plan.
2. Rethink your real estate game.
How does a company open 70+ stores with 0 inventory and see sales skyrocket? Meet the Peloton showroom. Purposefully small with little to no storage space needed, these are what I like to call the closing shop.  With low rental costs, this showroom served as a way to seal the deal for committed digital members and as a way to introduce someone brand new to the Peloton experience.
In 2018 CRO of Peloton Tim Shannehan said "Our showrooms are designed with three things in mind: sales, experience, and community.  We sell by providing consumers a place to experience a variety of class content, try on apparel, interact with the Peloton Bike (and soon Peloton Tread), and more."
Notably, they signed short term leases often focused on seasonal sales highs, strongly limited their buildouts, and considered non-traditional spaces like this: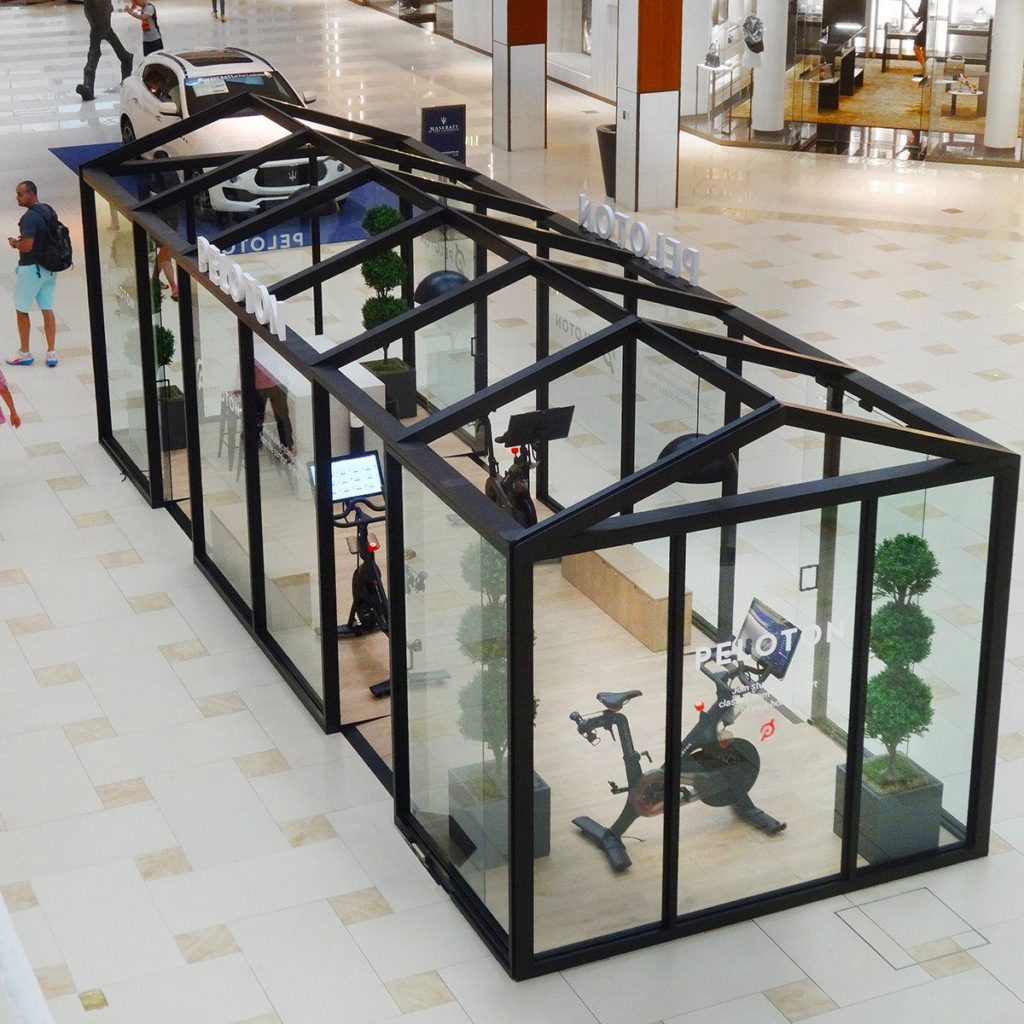 3. Meet clients in their homes.
According to IHRSA, only 20% of Americans hold some type of fitness membership, leaving 4 out of 5 people in the US on their own when it comes to workouts. In the UK, the number drops to 15.6% or 1 in 7 people holding a membership.
We've always known the vast majority of people are not within our four walls mainly thanks to:
Cost
Fear or Intimidation
Availability
And, nearly always because they don't see the value in investing in their health.
Why not meet the other 80% in their homes?  Peloton's done a brilliant job of this, as have studios across the US that are leveling up from Zoom and into a much broader platform.
4. No instructor left behind.
When we survey clients of failing studios, #1 comment that comes up is "Poor experience". The fastest way to improve experience is to standardize, uplevel and invest in your instructors. This isn't a 'the more the better' model. They've chosen to invest in the best of the best and pay them based on reach and return over experience. While this has not been confirmed, many articles suggest the early, core Peloton instructors were provided stock options in order to keep them invested and growing with the brand.
They are almost certainly all employees, with strident non-competes. But, why compete, when you've got one heck of a deal?
They are expected to be social influencers, organically referring new clients to the platform, and selling the retail they wear with every ride and run. A totally bought in and invested team that's producing an ROI? This is every studio owner's dream.
5. Create an exceptional, strategic referral process.
When Peloton's CFO announced in March that they were cancelling all possible paid advertising, she cited one major factor: Years of referral strategy was finally paying off. Peloton's referral strategy wasn't passive. They actively sought referrals in the sales process, offering strong incentives to sign people up TODAY (this is huge). They made referral promotions major focuses of their email campaigns. And, those rockstar instructors? They were shouting them out regularly. In other words, Peloton had learned to use their platform, which they had grown through paid advertising into an organic marketing funnel that was always growing.
6. Brand Build before you sell.
And, that brand building? It's the most important marketing you'll do. We talk marketing all the time, but marketing shares your message and advertising helps you sell. They're totally different beasts and I can assure you, most studios are missing out when they don't brand build before they ask for the sale.
Studio Grow Expert Tip: Your overall Cost Per Acquisition, or how much you pay in advertising and marketing dollars will likely be lower when you combine brand building and sales campaigns.
7. Broaden your hardware horizons.
In the last four weeks, we've worked with no less than 6 studios on releasing their first hardware product. If clients are working out in home, why not meet them there with a product they can't find anywhere else.
This isn't a bippity-boppity-boo idea. It takes serious planning, legal groundwork and likely some fundraising, but as the exercise at home market grows, there's no reason not to leap into it.
8. Develop your data.
You hear Peloton and think cycling. I hear Peloton and think data. Everyday Peloton is gathering data from tens of thousands of exercisers round the world. Average heart rate? Ability to finish a program? Becoming more advanced cardiovascularly? They have a literal pulse into the health of America. It won't surprise me in the least when they partner with or sell to a company that can use that data for the greater good.