Ads are powerful.
And they have been since the beginning of time.
However, their importance has only risen this past year, with more and more studios and wellness businesses moving online and the impact of word-of-mouth marketing not really packing the punch it used to.
With studios taking online marketing more seriously than ever before (and the online market becoming seriously competitive), we're all in need of some incredible ad role models – businesses who've created ads that are informative, interactive, and filled with personality.
Well, lucky for you, we at Studio Grow have scoured the web to bring you our favorite ads that do exactly that!
We've got everything from fitness giants to smaller studios. So grab your notebook and let's get into it!
Ad #1 Fiit

Meet the UK's Peloton, a rip roaring combo of three virtual studios (Cardio, Strength, and Rebalance).  Their ads have a sense of humor and we tend to stop when we're giggling. They get a few stats out there first:
600+ Classes
On-Demand
14 Day Free Trial
These ads are the long haul offer and one you'll see over and over again. So if you've been wondering what on earth to offer in your virtual studio, this is a great offer to start with.
Expert Tip:  Try the same copy with images geared toward men and women like you've seen here.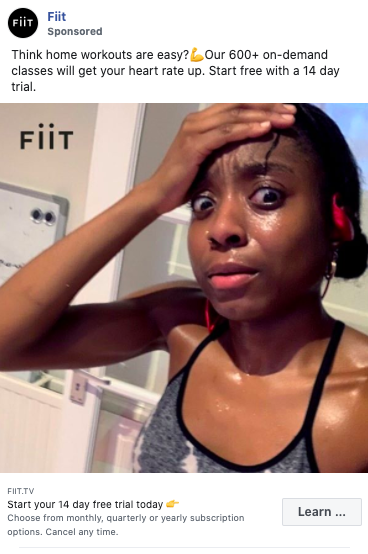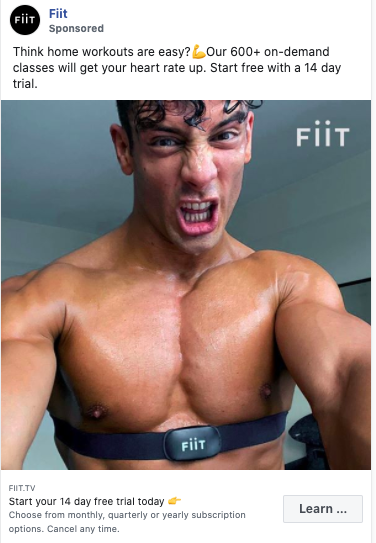 Ad #2 The Class by Taryn Toomey
What's the first thing you think of when someone says "The Class"?  If you're in the know, it's likely peaceful strength.  And, this video sums it up.  It's a simple concept.  One class from the perspective of one woman at home.  We can all picture ourselves there.
But, it's been overlaid by a simple voiceover testimonial that gets straight to the point.  You leave knowing you want to be a part of this and because it's not all flash, mirrors, and loud music, it sets out to clearly define who should be attracted to this.
Expert Tip:  Grab a killer testimonial and film it on your computer.  Have an editor create a b-roll montage and layer that over for simple video ads. 
Ad #3 Noom
Truth be told:  I had not heard of Noom until I flew to Minnesota to assist a studio in a large beta we were working on.  By the time I left, I felt like an expert in it.  It's one of the most popular "habit based" movement and nutrition programs on the planet.  And, the science and psychology they pour into their programs are evident in their ads.
They tend to keep their copy short, sweet and to the point.
Science Focused
Short time commitment
Routine based
The fact that they've highlighted what would be deemed by many fitness studios, a slow decline in weight, is purposeful.  They're setting an expectation even before someone starts.  This is for the long term.  This is doable.  You will follow through.
Expert Tip:  Graphics for the win.  Use Fiverr or Upwork to have a designer chart your clients progress in simple graphic form for low cost ads.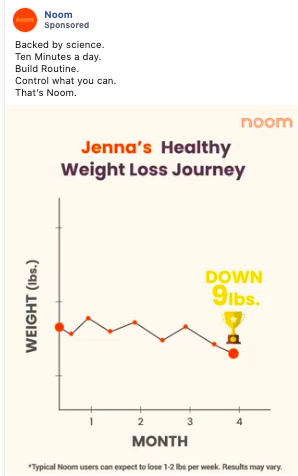 Ad #4 The Sculpt Society by Megan Roup
We fell in love with Megan over quarantine.  Her mix of Live Instagram workouts, which often paired her with some amazing influencers and some hilarious down to earth moments, and her membership site have us singing her praises.
And, when we saw this ad, it was proof as to why we adore her. Meet a doctor (in scrubs and clearly at work), who's staying strong and powerful with Megan's workout.  The message is totally symbolic:
"If she can, you can."
"If she does, you should".
Expert Tip:  We've often used medical professionals in our videos just like this.  Whether it's your beloved local doctor or a somewhat anonymous physician who's sneaking in a workout during one of the hardest times the medical industry has faced, people will take notice and note.
We nabbed this video with a software that decided it knew the proper size better than we did. Since it's so amazing, we kept it up even if it looks a little wonky!

Ad #5 Fluidform Pilates
Yup, there's two down below and I love them both for different reasons:
Ad 1:  I stopped scrolling the moment I saw this graphic. It probably could have said anything and I would have clicked.  That's the power of great design.
Ad 2:  Talk about calling out your avatar:  30 years old, mom of 1.  This is as classic as it gets to ensure the right person is walking through your doors.
Lesson:  Don't forget to test lots of different images.  Even ones that don't necessarily appeal to you.  Your market will tell you what it wants and that's the most important voice here.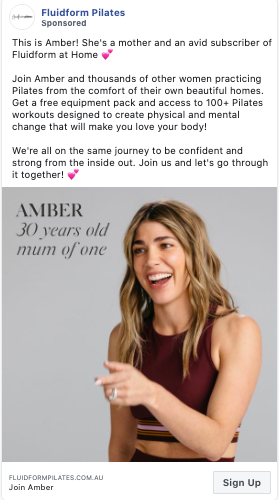 Ad #6 Barrecore
"Did you know…" may be one of my all time favorite ways to capture someone's attention.  In this case it's followed by an astounding (and for many women) exciting fact:  6 minutes of isometric exercise is the equivalent of 35 minutes of weight lifting.
What works on that fact?  Time.  You'll see over and over that successful ads for virtual programs are focusing on the time it takes to workout.  Yes, it's kinda 8 Minute Abs for the post-quarantine generation.
But, there's a reason it works.  With kids home, work going wild and so much overwhelm, we don't have as much time, even if it's the most precious thing we could do for our bodies and health.
Expert Tip:  If your focus is mindbody and intentional movement, share why this makes such a great difference in such a short period of time. 
Ad #7 Yogaworks
When Yogaworks announced it was closing its NYC locations, it felt like an earthquake had hit the boutique fitness world.  But, the brand has pivoted to an online model that may prove to be infinitely more profitable.
This ad is the perfect representation of that, since most of us are:
Looking for a boost
Or to unwind
Or to jump into some partner yoga.
But, mostly this is a simple compilation of client videos, combined with minimal video editing that's an incredibly powerful message.
Expert Tip:  Ask your clients to film themselves in their homes.  Use an editor to create a simple compilation (and don't leave out the fun!).
We nabbed this video with a software that decided it knew the proper size better than we did. Since it's so amazing, we kept it up even if it looks a little wonky!

Ad #8 Frame
This isn't an ad (but we sure think it should be). Yes, clients want to make sure you're keeping them safe post-Covid. But, they also want to laugh and have your studio be a respite…a place to let go and relax. This is quite simply pure fun and a hilarious reminder that we're taking care of business and keeping everyone safe.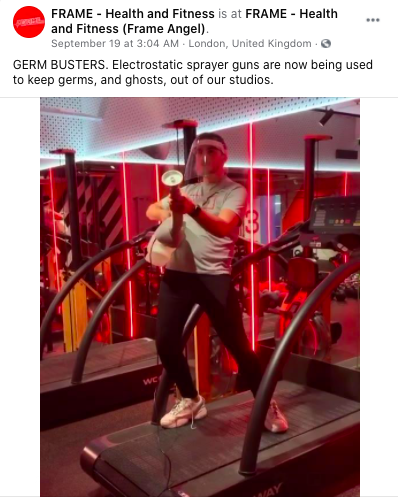 Ad #9 Essentrics
The most overlooked clients for virtual fitness studios:  the "senior citizens".  Given that AARP begins its memberships at 53 (yikes), that generation makes up the vast majority of people worldwide with disposable income.  They tend to be loyal.  They have both the time and the pressing need to move.  And, very few people are talking to them.
Having been blessed to work with Essentrics instructors in Europe, I love their program and this ad.  It has it all:
Testimonials from a wide variety of people
A peek inside a robust membership site
A reminder that youth is very much based on how your body moves.
Expert Tip:  Let your students shine.  Don't be afraid to play off a one word question and share the stories and faces of many of them.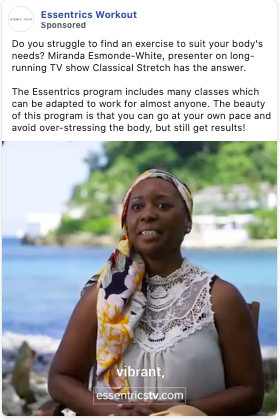 Ad #10 Lululemon
Okay, so this isn't a virtual studio ad, but it's one of the best branding messages we've seen of late. In a world that's totally divided, we can celebrate individuality and the beauty of the spectrum of people that workout with us.
It's not always the offer. People are listening for your message and it's awfully powerful when we share it.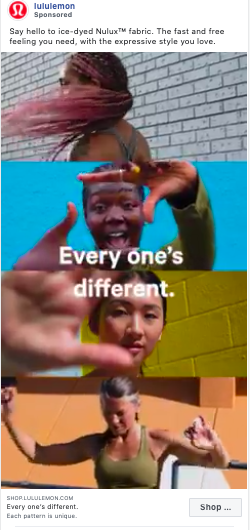 However, if you're feeling overwhelmed with inspiration and don't know which direction to head in, maybe some expert help is in your cards!
Click HERE to speak to Nathan our resident marketing whiz about how our marketing solutions might help you and your studio get new folks through your doors, whether that be virtually or in person.